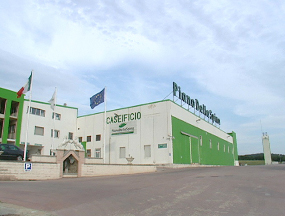 Piano della Spina dairy is placed in the northern area of Basilicata.
This area is dominated by a volcanic mountain called Vulture whose lava has made the ground extraordinarily productive. This is a ground full of fortifications and castles, the most famous are both Melfi and Lagopesole, built by the Emperor Federico II.
In this area is placed Filiano, a particular town, because near the central area there are 35 towns spread out into 7 fractions. In 1966 in Tuppo dei Sassi, Scalera fraction, some pre-historical shelters, dug in sandstone, have been founded, which gone back Mesolithic period. One of these portrays animals, vegetation and hunting ochre red-coloured. Filiano's name would come from the tradition to spin the wool, connected to the breeding both of sheep and goats; this activity is still present, but today is turned more to the production of famous pecorino cheese.
And here on a hill called Piano della Spina that in 1987 was born the Society
From then, Piano della Spina dairy expands on a surface of 12.000 m2 whose 4.500 covered.
Furthermore, the personal experience and the traditional cheese technique have been supported by technology, permitting the firm to expand more all over the national territory.
The provision of milk, only gathered in local breeding, guarantees tastes and flavours of past tradition to products. All working stages are controlled and carried out in the utmost respect both of advanced hygienic-sanitary norms and of European Community rules: self-control systems such as H.A.C.C.P. and CEE recognition.